October 28, 2014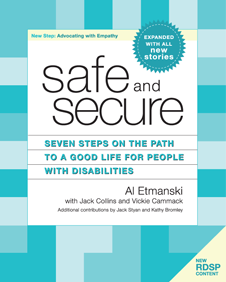 Pre-order your copy now!
Safe and Secure: Seven Steps on the Path to a Good Life for People with Disabilities will be available as an electronic book in late October and as a printed book this winter.
Safe and Secure is always FREE but there are shipping costs for the printed edition. If you would like to avoid shipping charges and live in the Vancouver area, you may arrange a time to come by the PLAN office and pick one up; please contact us at 604-439-9566 or inquiries@plan.ca to secure your copy now and we will contact you when it is available.
The 2014 Safe and Secure RDSP Edition will come with a whole new chapter on advocating with empathy and additional stories, as well as updated information on the RDSP, housing, government benefits and programs, resources and more.