October 21, 2020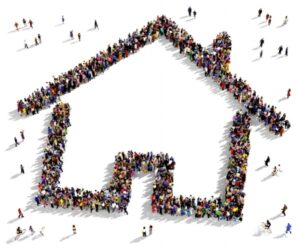 PLEASE NOTE: the following plan has not been enacted and currently there is no opportunity to make a one-time withdrawal from an RDSP for home purchasing options. For more information on withdrawals, please see our blog post Withdrawing from an RDSP or view the Tutorial.
How Inclusion Canada is working to improve access to homeownership for people with disabilities.
This article is written by Inclusion Canada. 
My Home My Community (MHMC) is a national partnership initiative of Inclusion Canada, with People First of Canada and our member organizations. In response to federal commitments made within the National Housing Strategy, we have been working over the past two years to ensure people with an intellectual or developmental disability have the same housing choices, safety, and stability as everybody else. 
In 2019 My Home My Community began exploring ways to make Registered Disability Savings Plans (RDSPs) more useful for people with a disability and their families, specifically when it comes to housing security. With input from people with lived experience, community organizations, and experts in disability, law, finance, and housing we began exploring needs, challenges and developing solutions to allow more people with a disability to achieve homeownership and housing stability.  
People with a disability can and do own their own homes. Many more want to – but lack the same tools to attain homeownership that public policy provides to Canadians without disabilities. The current design of the RDSP makes it nearly impossible to use these savings towards homeownership. To fill this gap, My Home, My Community has created a homeownership tool designed specifically for people with disabilities to access homeownership using an existing savings program.
The RDSP Homeownership Plan has three key features:
A new withdrawal option

that would allow people to use money from their accounts without penalty towards the purchase of a home. Current rules make it nearly impossible to use savings in one's RDSP to purchase a home, at least before they reach their 50s or 60s. 

Increased flexibility

in when people can access matching Grants. Purchasing a home requires capital up front. The RDSP Homeownership Plan would provide opportunity to access more of their lifetime allotment when they need it, rather than being restricted to accessing only a portion of available grants within a given year, or waiting until much later in life and never being able to use their savings toward a home purchase.

Broadening the eligibility

for government contributions (Grants & Bonds). Eligibility for government Grant and Bond contributions to Canadians' RDSP savings is tied to family incomes. However, the income limits mean that support is phased out at levels that exclude many people with disabilities who face housing affordability challenges.
What the RDSP Homeownership Plan could mean for people with a disability 
Taken together, these changes could make homeownership much more accessible for people in Canada with disabilities. Financial modelling to test the impact of the RDSP Homeownership Plan shows that these changes would substantially improve the housing options available to people with disabilities, even for people with moderate incomes. Modelling shows that under the RDSP Homeownership Plan, people with disabilities who rely on social assistance and have family support to contribute $1,500 a year to a RDSP can afford to purchase a home in any market in Canada, except Vancouver and Toronto, by age 49.
In several testing scenarios our proposed design allowed people to save more money more quickly in their RDSP than with the current rules. People who opened RDSP accounts from a young age had the most significant growth in the money saved in their RDSP.  Being able to withdraw the full amount of money in their RDSP to purchase a home turned out to be the suggested change with the biggest impact. This flexibility opened up housing options not possible under the current RDSP program. 
Final Thoughts
We don't know whether the federal government will adopt our recommendations for an RDSP Homeownership Plan but there are some important reasons why we believe they should:
Canada's National Housing Strategy has committed to making investments in housing for people with a disability a priority.

The National Housing Strategy is clear that housing policy should be based on inclusion, participation, and non-discrimination.
The changes suggested in the RDSP Homeownership Plan support these principles and help address the inequality that people with a disability face in saving to buy a home. 
People with disabilities deserve access to the same range of housing options as people without disabilities, including homeownership – and deserve the tools to help them get there. My Home My Community and its partners will be calling for the federal government to implement the RDSP Homeownership Plan. To stay updated on this work, please visit www.myhomemycommunity.ca  
Inclusion Canada is a national federation of 13 Provincial/Territorial associations and over 300 local associations working to advance the full inclusion and human rights of people with an intellectual disability and their families. Visit inclusioncanada.ca for more information.